Baso Standardized Centrifuge for Vehicle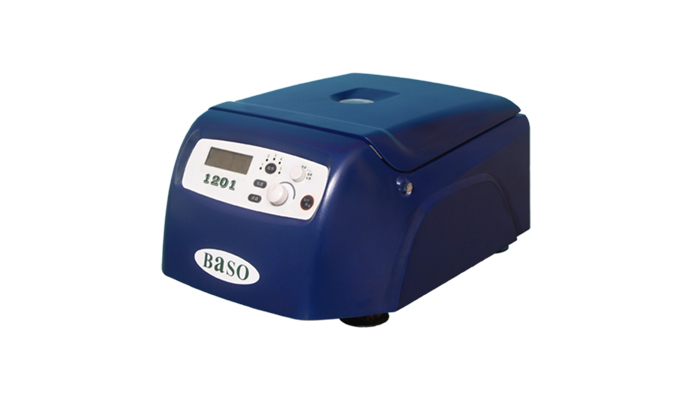 Features:
1. Micoprocessor control; set default the permanent centrifugal program button for blood grouping; cross
matching, antibody screening and cell separation; more program button reserved for user setting;
2. Display and setting function for the special rotational speed and RCF which can be set directly;
3. Adopt countdown for the effective centrifugal time;
4. Built-in special gradienter, four support points has the self-leveling adjustment function to keep it place in
horizon;
5. Special sucker has strong adsorbability in the working table of blood collecting vehicle;
6. Plastic casing with pad to meet the requirment of nucleic acid detection casing.
Technical Parameters:
Model No.

BaSO 1201

Max. RCF

1900g&4000rpm

Specical Vehicular Device

Built-in special gradienter, four support points has the self-leveling adjustment function to keep it place in horizon;

Sepecial sucker has strong adsorbability in the working table of blood collecting vehicle;

Vehicular power supply

Motor Type

Non-carbonate direct current motor, no pollution, free to maintenance;

Electric Control Unit

Microprocessor control system;

Dynamic display the RCF and rotational speed, convvertilbe sbsolute centrifugal force and relative centrifugal force;

Memory unit; specially set 2-group of permanent centrifugal program button (cell separation and special for blood bank), and then provide 5-group one for user setting;

Instant centrifugal function;

Safe Device

Compensation device (about 10g) and auto-power-off device under the unbalance centrifugal;

Over-heating protection unit for motor;

Three-point suspension balance system;

Double-lock; electric and mechanic combination lock, more save for the users;

Timer

1s-99min; 59s digit time unit;

Adopt countdown for the effective centrifugal time, it is under precise control;

Rotor Type

Fixed angle rotor (closed), lower noise;

Braking System

Auto-break system, 2-7s stop without downtime;

Power Supply

AC 110/240V 50/60Hz (Vehicular available);

Casing Volume

3ml/5ml/10ml/15ml x 12pcs (Plastic casing with pad to meet the requirement of nucleic acid detection casing);

Weight

6 KGS

Dimensions

255 x 245 x 140 mm